Fully Booked! Sorry, this popular workshop is now full.
Waiting list is available should there be cancellations, call Thomi.
Our first workshop of the year will be using watercolour with our well known and popular member, Rob Candy.
Rob has won first prize for his watercolours at our awards exhibition numerous times. He has taught for many years at the Ku-ring-gai Art Centre and more recently has been taking art tours abroad – to Vietnam, China, Turkey, to name just a few.


T
he Program
CREATING DEPTH IN YOUR WATERCOLOURS
Watercolour is a vibrant, dynamic and challenging painting medium However many watercolours appear flat and lifeless. This workshop will explore the ways in which the artist is able to create depth and completeness in their watercolours.
This workshop is designed for both the beginner and the more advanced artist. It will review the process of painting watercolour with the aspect of depth including
basic drawing techniques,
watercolour washes
Values
composition
the use of colour
The workshop will analyse examples of watercolours which will give the artist a greater understanding of what a successful watercolour looks like. We will paint a variety of landscapes from boats and coastal scenes through to urban and country scenes. A variety of traditional and innovative methods and techniques will be promoted to allow the individual to access this fascinating medium. The workshop will expose the beginner to the stages of watercolour painting while allowing the more experienced artist, a chance to review and refine some of their own practices.
Throughout the workshop, Rob will paint numerous demonstrations and discuss techniques and offer advice.
Materials
What do I bring to the workshop?
Bring your normal watercolour painting equipment !
If you do not have anything the following may be useful as a guide only !
Watercolour Paints
Bring your own watercolour kit that you use.
If you are entering the watercolour world for the first time then there are so many options when you look at purchasing watercolour paints. I would recommend tubes rather than pans. Depending on how you paint you generally do not use large amounts and so I would recommend that you purchase artist quality paints rather than student quality. A selection of the following would be useful but do not buy them all!
Blue:

Red/Browns

Yellows

Other
Cobalt Blue

Ultramarine Blue

Cerulean blue

Tasmanian blue (art spectrum)

Prussian Blue

Burnt sienna

Raw umber

Alizarin Crimson

Windsor Red

Cadmium yellow

Lemon yellow

Naples yellow

Rose Madder

Turquoise Green
Watercolour Papers ( 5-8 quarter sheets of paper)
Papers come in weights. A good weight is about 300grms either in a book, block or sheet. Sketching paper is always useful.
Brushes
These are expensive items but some brands are reasonably priced and good value. Generally you need a brush to do larger washes and 1 or 2 brushes for details. This all depends on how you want to paint.
Water Container : any container. Plastic jar
Palette : Some use white dinner plates others use 'well type' palettes. Whatever you think will allow you to mix adequate amounts of paint
Pencils 2B lead pencil, soft rubber, sharpener
If you want a critique on a painting please bring it along on the day
The Artist
ROB CANDY AWI
Born Melbourne. Rob began painting watercolours at Ku-ring-gai A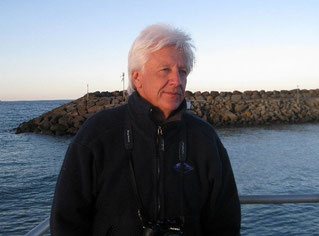 rts Centre during the 1980's with Owen Thompson, and at the Royal Art Society of New South Wales with Frederic Bates OAM. He has a degree in Geography and this informs his analysis of and appreciation for the landscape.
Rob visited Normandy in France in 2003, and this experience led to his solo exhibition with the theme of the fisherman of Honfleur, France.
He is a passionate traveller and has taken numerous groups through China
including a watercolour tour in 2010 along the Silk Road, China. Rob has led many other watercolour tours including
2012 Tibet Lhasa, Xian and a cruise along the Yangtze River.
2013, an artist's sketchbook tour through Turkey.
2014 an artist tour along the Silk Road
2015 an artist sketchbook tour through the Balkans
finishing in Venice is leaving in September
Rob has been a featured artist in the Austrailian Artist magazine most recently in 2012.
He has been a featured artist in the Australian Artist magazine(October 1996, June 2002, September 2004 and November 2005). The most recent of these essays examined his painting from Tuscany.
Member of the Australian Watercolour Institute since 2005, Associate Member of the Royal Art Society of NSW and a Member of Ku-ring-gai Art Society.
More details will be posted later, but we are taking bookings already.
Book early, as this will be a very popular workshop, be sure to reserve your spot.
You can book this workshop online via this KAS website. http://ourkas.com.au/news/workshops/
Any inquiries please contact either Anne Carpenter on 0411 034 413 or
Thomi Graham on 0408 891 702